Design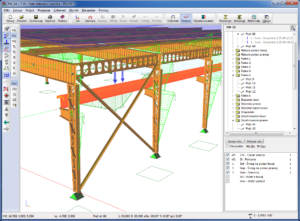 We design steel structures with use of the latest software. To make our projects stand out from others, we use innovative construction solutions. Furthermore, we ensure the safety and stability of our constructions. For this reason, we realize our projects with full accuracy and consider all connection details.
Our professional solutions are individually adapted to each customer. At the same time, we take into account the cost of alternative materials in order to obtain the best offer for the construction of the desired object.
We offer a wide range of services in the form of technical advice at every stage of investment. The experience of our team enables us to oversee the entire investment process and guarantee the full project implementation.
Additionally, we provide the following services:
Assembly and demolition works
Optimization of material consumption in steel and reinforced concrete structures (focus on steel constructions)
Inventories in the fields of construction, installation, conservation and architecture
Energy certificates for buildings
Sanitary and electrical installations
Please feel free to contact us at any time.
Zapytaj o usługę