Laser cutting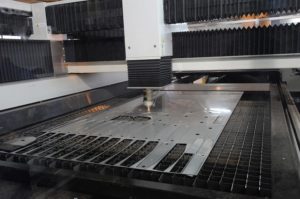 Our offer includes laser cutting of metal sheets with a thickness of up to 25 mm as well as plates with a size of 2000 x 6000 mm. We cut any shape from sheets made of construction, stainless or wear-resistant steel as well as aluminum. Laser cutting is considered the fastest and most accurate method of sheet metal cutting today.
Elements made with this technology do not need additional processing.
Laser cutting ensures the repeatability of the manufactured parts with high accuracy.
By optimising the distribution of the parts on the sheet, the waste is minimal. Laser cutting machines provide fast execution at a much lower cost than traditional methods. In addition, they guarantee:
smooth and clean cutting surface (no finishing required),

material saving due to narrow cutting gap,
high cutting speed,
100% repeatability of elements
any shape of the cut.
We encourage our customers to use the laser cutting technology because of the high cutting quality, the material savings and the fact that the finished parts do not require further processing.
Zapytaj o usługę